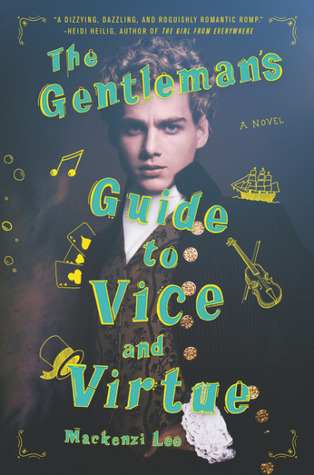 My rating: 4.5 out of 5 Stars
Received: ARC provided by Edelweiss
Publication Date: June 27, 2017
Publisher: Katherine Tegen Books
Point of View: First Person (Monty)
Genres & Themes: Young Adult, Historical, LGBTQ+, M/M Romance, Bisexual MC, Fantasy
BLURB:
Henry "Monty" Montague was born and bred to be a gentleman, but he was never one to be tamed. The finest boarding schools in England and the constant disapproval of his father haven't been able to curb any of his roguish passions—not for gambling halls, late nights spent with a bottle of spirits, or waking up in the arms of women or men.
But as Monty embarks on his Grand Tour of Europe, his quest for a life filled with pleasure and vice is in danger of coming to an end. Not only does his father expect him to take over the family's estate upon his return, but Monty is also nursing an impossible crush on his best friend and traveling companion, Percy.
Still it isn't in Monty's nature to give up. Even with his younger sister, Felicity, in tow, he vows to make this yearlong escapade one last hedonistic hurrah and flirt with Percy from Paris to Rome. But when one of Monty's reckless decisions turns their trip abroad into a harrowing manhunt that spans across Europe, it calls into question everything he knows, including his relationship with the boy he adores.
REVIEW:
The Gentleman's Guide to Vice & Virtue—more like The Gentleman's Guide to Breaking my Heart One Page at a Time by Mackenzi Lee. Given it might not be a catchy title as TGGTVV, but it be rather apt, and all true.
With a cast like Monty, Percy, & Felicity, it really is not possible to not fall in love with this book. The Gentleman's Guide to Vice & Virtue is filled with adventure, heart and resilience. Recently, I was having a conversation with a TGGTVV reader, she responded with something that read, "I'm loving it, it took a dark turn that I wasn't expecting." It got me thinking on the journey, and the story, and my expectations and the delivery, and until I'm sat here writing this review…it hit me.
This story is different to what I was expecting, but in the ways that make this story so successful, that makes it one of the best reads I had this year. See, TGGTVV isn't merely about a Grant Tour, it isn't about Monty and his antics. Rather it talks about how privileged Monty is in someways. I want to point out that there is TW for parental abuse, racial slurs, homophobia and biphobia, epilepsy, abelism, and if I'm missing anything let me know. All of this is unpacked within the novel, and I'm living for the days book unpack all the problematic things in reality. See before when an author wrote homophobia it wouldn't be unpacked, it wouldn't get called out within the text, it would just be a thing that happened, because "that's real life," because that's not what the author believes, but what the character believes like what kind of BS.
No, TGGTVV unpacks a lot of the privileged way that Monty thinks—in respect of Percy, and Felicity, in women, in the world. I wish I could touch up on everything, but I just want everyone to read it and fall in love with the story and it's characters. I can say with 100 % certainty that I love Percy, Monty & Felicity. That throughout the book I was in 110% in, rooting for them all, in a wild ride that I almost didn't want to end.
Percy and Monty are basically ship goals (I'm trying not to make ship puns here, guy!) This are two are the epitome of Tumblr Post OTP #1 of those two are so in love that everyone knows it except them two. I love the slow burn. GIVE ME THE SLOW BURN, I say. I love how in love Monty is, and it's like ….sooooo……goood. Monty is hilarious, and boy, would I be friends with him just go get into the trouble he always finds himself in. AND PERCY MY CINNAMON, TOO PURE FOR THIS WORLD. What else can I say, but if anyone or anything hurts him I WILL go all Taken-on-their-butt?
AND MOTHERFREAKING FELICITY. Can I get a-women? This girl one hell of a badass. She's the bookworm all of us are? Ready to kick butt, and save everyone. And she doesn't put up with Monty's shenanigans.
Also. P I R A T E S. Hell to the yes.
Hell to the yes on all of this. HELL TO THE YES GO BUY THIS BOOK. now.
 For more The Gentleman's Guide to Vice and Virtue Fanart and Fan Edits check out the tumblr Tag here!