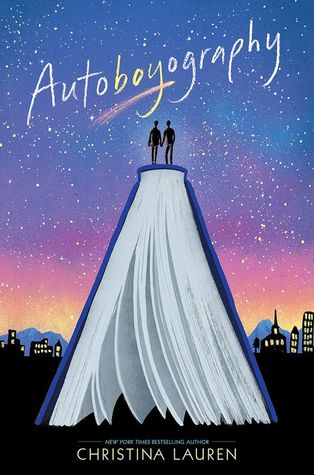 My rating: 5 out of 5 Stars
Received: ARC provided by/from Edelweiss
Publication Date:: September 12, 2017
Publisher: Simon & Schuster Books for Young Readers
Point of View: First Person (Tanner)
Genres & Themes: MM Romance, LGBTQ+, Romance, Contemporary, Young Adult
BLURB:
Fangirl meets Simon vs. the Homo Sapiens Agenda in this funny and poignant coming-of-age novel from New York Times bestselling author Christina Lauren about two boys who fall in love in a writing class—one from a progressive family and the other from a conservative religious community.
Three years ago, Tanner Scott's family relocated from California to Utah, a move that nudged the bisexual teen temporarily back into the closet. Now, with one semester of high school to go, and no obstacles between him and out-of-state college freedom, Tanner plans to coast through his remaining classes and clear out of Utah.
But when his best friend Autumn dares him to take Provo High's prestigious Seminar—where honor roll students diligently toil to draft a book in a semester—Tanner can't resist going against his better judgment and having a go, if only to prove to Autumn how silly the whole thing is. Writing a book in four months sounds simple. Four months is an eternity.
It turns out, Tanner is only partly right: four months is a long time. After all, it takes only one second for him to notice Sebastian Brother, the Mormon prodigy who sold his own Seminar novel the year before and who now mentors the class. And it takes less than a month for Tanner to fall completely in love with him.
REVIEW:
"It opens with a boy and a girl, a dare, and crumbs on a bed.

But where it really begins is with a double take and the words "His smile ruins me."
We all know that LGBTQ+ films are rare and few, and even rarer is happy endings. I'm always on the look out for rep and a couple of years back I stumbled upon Latter Days. A movie about a young Mormon who has just moved to LA. He's living next door to an out, gay man. I don't want to spoil the movie, but if you want a happy ending, check it out.
Really the mormon part is really as close to Autoboyography as it gets, but I couldn't help and remember the film. I was hoping, and praying (bad pun?), that it wouldn't disappoint.
Most of my most anticipated LGBTQ+ books have been falling short this years, not because they're bad, but because most have the pairings together until maybe the last 80% (if I'm lucky) together and the beginning pure angst, or just doubting everything.
I have to note that I really don't know LDS, at all. Apart from them coming to my home every now and then, therefore I cannot say if the rep is represented well or not, regardless to how it reads to me. Therefore, I'll not comment if it's properly portrayed or not.
Autoboyography is a win in my book. The biggest win of all, since it's full of heart and emotions, and a beautiful love story, with a full cast of characters that bring so much to the story.
It's the beginning of a new year for Tanner, and he has the daunting task of choosing classes. His best friend, Autumn, urges him to take a seminar that's about completing a novel in four months. Sounds long, right? Well, maybe. Last time someone took the class, they got a publishing deal and now said author is mentoring the class.
And so in walks Sebastian Brother into Tanner's life. And it's love at first sight.
"When Sebastien Brother walks into our class and he sees me and I see him, I have the sense of falling sideways out of my chair.

I am drunk."
Okay, to me it read as crush at first sight. Tanner is struck with how gorgeous Sebastian was, and from then on, it was all he could think about. But, Sebastian is Mormon and Tanner knows all about how gay people are seen through LDS. And surely, Sebastian would never return Tanner's feelings….?
"Sebastian knows, too, how it can take up residence in the tiny spaces on a face where muscles can't force a smile."
I'm just so hyped with how romantic this book was! With how romantic and sweet and pure both Tanner and Sebastien were(!). By no means are Tanner nor Sebastien perfect, because they're flawed and imperfect, and mistakes are bound to happen, especially internalized homophobia. It so raw and honest, but it was so real that I couldn't help but feel for Tanner who wanted, but held back because he knew he was going to get hurt.
It was interesting to read the family dynamics from both Tanner and Sebastian's life. Tanner who has an accepting family, but who draws line because of where they are. And Sebastian's family, who are loving, but comes with terms and agreements.
Through it all, they're interactions and dates, and little details are so lovely, and just the excitement and rightness they feel being together. I especially loved how the book plays in it all, with the fervor that Tanner writes, and pours his feelings. With how honest he is in his words.
I love it all, even when it hurt me to read certain things, even when I was freaking out at Sebastian reading passages from Tanner's book (You'll get it when you read it, it was WILD, Y'all. ABSOLUTELY WILD. I had to close my Kindle and read slowly because freaking look & find did my boy WrONG)., even when I had doubts about how it would end, even when ENDING HAPPENED AND I WAS SCREAMING.
I do want to point out is that Tanner is bi, he's an out bi guy.  I, in no way, want to erase his identity in tagging this as m/m romance or implying the MC and LI are gay.
"There's the devil on one shoulder, the ignorant perception that I get from all sides, both inside and outside the queer community, who say biseuxality is really about indecision, that it's impossible for biseuxals to be satisfied with one person and the label is a way to not commit. And then there's the angel on the other shoulder—who the queer-positive books and pamphlets encourage me to believe—saying that no, what it means is I'm open to falling in love with anyone. I'm happy to commit, but the specific parts don't matter as much as the person."
I want to say that everything is unpacked, every stereotype is challenged and talked about in this novel.
Christina Lauren DID GOOD. They did amazing, and I can't wait for everyone to fall for this two, and every single character in this book, because Tanner's friends are amazing, okay?
Also, can we basically have heart eyes over the cover?
"He falls in love under a sky full of stars. "
Buy Here | Instagram | Goodreads| Tumblr | Twitter |