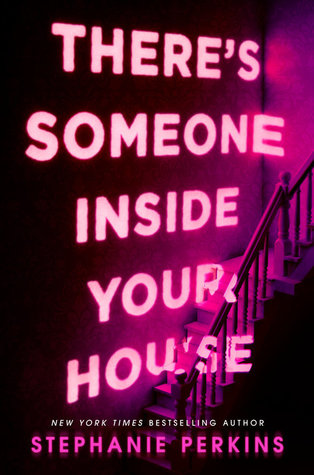 My rating: 4 of 5 stars
Received: ARC via Edelweiss
Publication Date:September 26, 2017
Publisher: Dutton Books for Young Readers
Point of View: Third Person (Multiple)
Genres & Themes: Young Adult, Contemporary, Horror, Slasher
BLURB:
Scream meets YA in this hotly-anticipated new novel from the bestselling author of Anna and the French Kiss.
One-by-one, the students of Osborne High are dying in a series of gruesome murders, each with increasing and grotesque flair. As the terror grows closer and the hunt intensifies for the killer, the dark secrets among them must finally be confronted.
International bestselling author Stephanie Perkins returns with a fresh take on the classic teen slasher story that's fun, quick-witted, and completely impossible to put down.
REVIEW:
His question was curious, though his voice was dead. "Why aren't you screaming?"

Because I don't want to wake up my brother and sister. When she didn't answer out loud, he finished her off. 
There's something about binge watching slasher movies that just makes my day. There's a difference between scary movies and slasher movies, both of which I love, and it's important to note that this is a YA Slasher-esque book.
How someone who wrote Anna and the French Kiss could possibly write There's Someone Inside Your House is exciting and intriguing. Stephanie Perkins doe not write fluff and rainbows in this one. She does not hold her punches, either.
Honestly, I expected Perkins to not kill her characters in TSIYH, she did write one of the cutest, most romantic YA contemporary books I've read. One that made me want to pull out on those winter/rainy/happy days, armed with blankets and hot chocolate. Instead, with TSIYH I flipping through my digital pages like someone was going to take my kindle from my hands without letting me know how it would end.
I know I get super spoilery when I'm in love with a book, especially when I hate it, but this time I'm writing a spoiler-free reviews (shocking, I know). Because going into this book you should see how Perkins writes a very predictable plot, because there was only so many ways that Perkins could go with a book that resembles the franchise Scream. I mean that franchise had all type of suspects/killers that a reader could go trying to figuring out the killer since page one.
Just wait and read, because within the intrigue and mystery, there's more mysteries. There's secrets and danger, and half lies. Then there are the characters and I absolutely loved Makani. Some of that Anna and the French Kiss level of shipping makes it into this book, because I was totally shipping Makani and Ollie since the beginning. Ollie kinda has my heart, tbh. That's all I'm saying about those two because I don't want to spoil. Anything. At. All.
Although, let me tell you that the friendship that is formed near the end gave me thrills because there's this thriller scene and I just about died laughing bc same. I would totally scream just like that.
I do wish the ending was different, in that it was longer and just a little bit more. Of anything, I felt like it was abrupt? With like this big question mark like what? Just? happened?
Also, some TW: dead-naming. And some hmmm type of phrasing.
"Darby was born under the name Justine Darby, but he'd lived as a boy since his freshman year. […]"
There's Someone Inside Your House is definitely a book to add to your TBR list, and to be on the lookout for.
Buy Here | Instagram | Goodreads| Tumblr | Twitter | Pinterest Aesthetic Post