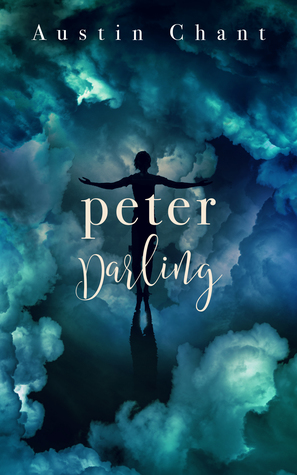 My rating: 4.5 of 5 stars
Received: Provided by Netgalley
Publication Date:February 15, 2017
Publisher: Less Than Three Press
Point of View: Third POV (Hook & Peter)
Genres & Themes: Fantasy, LGBT+, Retellings, Peter Pan
BLURB:
Ten years ago, Peter Pan left Neverland to grow up, leaving behind his adolescent dreams of boyhood and resigning himself to life as Wendy Darling. Growing up, however, has only made him realize how inescapable his identity as a man is.
But when he returns to Neverland, everything has changed: the Lost Boys have become men, and the war games they once played are now real and deadly. Even more shocking is the attraction Peter never knew he could feel for his old rival, Captain Hook—and the realization that he no longer knows which of them is the real villain.
REVIEW:
This is all kinds of magical and gay, and I love it.
Hook gave a low chuckle. "Your obsession is flattering, Pan. And I share it."

"Obsession?"

"Is that not what they call it," Hook said, "when two men can think of nothing but each other?"
If the world were a better place, we would all have all the LGBTQIA+ retellings in the world. Slowly, they're coming through and I'm so glad that Peter Darling exists. Truthfully, I never really thought of Hook and Peter as OTP material, or even any ships other than Jolly Roger (which for some reason I've always called it Jolly Rancher in my head, but I digress). But after reading this book, the ship has sailed, like far far into Neverland, and a cottage.
Peter Darling transcends that suspended magic of childhood, giving it depth and feel that resonates through the impossible. In this retelling Peter is transmasculine, and he goes through a very psychological journey, in vast ways. He not only has to realize why he's running away to Neverland, but that's run away in the first place.And then it's the feelings that has awoke within him since seeing Hook for the first time, again.
The whole story is so special. From the way that Peter feels, the fine line between villainous intent and justice, and the knowledge that some nags at the back of Peter's mind, was a sublime read. It's not my lane to say if a book should have a '"reveal" moment, but I found Chant's decision not to include one here  perfect. This is a #ownvoices book, and really the only people to decide if a reveal moment should be included in a trans book is that person. I suggest reading his post here.
The slow-burn…wait. There was no slow-burn…it was pretty gay since the prologue….Okay, so the romance between Hook and Peter was just perfect, and like I said in my Coffee Boy review, I need Chant's book to be longer! I do want to see how Peter and Hook progress. I'm trying super hard not to be spoilery.
There so many scenes that keep playing throughout this review, like the big reveal of Hook, Neverland, the Lost Boys, that I just found so perfect and right. And like a big 'Huh,' and 'Duh.' If that makes any scenes at all. I specially loved Hook and his love for Fashion, and I found the treasure moment hilarious, when Peter is all like you're thinking about boots? like priorities, man.
"His skin was stark canvas begging for ink, and Hook's touch was going to stain him forever."
In all, if you're in for magic, and love, and HEA then Peter Darling is pretty darling….and daring. And fast-paced, and intense sword-fighting is involved, as well as soft comfort, and love declarations…
Instagram Post
Buy it Here| Instagram | Goodreads| Tumblr | Twitter |