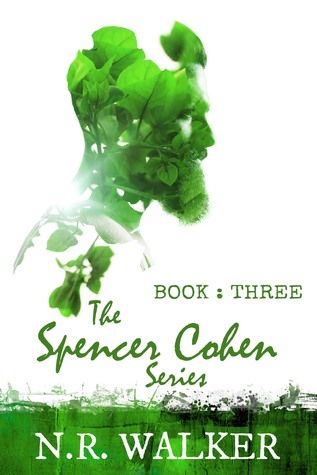 My rating: 5+ of 5 stars
Received: ARC provided by author/publisher
Publication Date:April 21, 2016
Publisher:BlueHeart Press
Point of View: First Person (Spencer
Genres & Themes: Romance, M/M Romance, Contemporary, LGBTQA+
BLURB:
Learning to be in a committed relationship has been easy for Spencer. In fact, too easy. Andrew has fit into his life seamlessly. Spencer's let go of his insecurities and hang-ups, and he and Andrew are enjoying where things are headed.
For the first time in years, Spencer's life is unbelievably perfect.
Andrew overthinks everything. So when Spencer gets a phone call from Australia, he's certain Spencer will push him away.
But instead of driving them apart, maybe it will solidify what they already have. Maybe Spencer will depend on Andrew more than ever. Maybe the Spencer Cohen story will come full circle, and maybe, just maybe, Spencer will have the happily ever after he never thought possible.
REVIEW:
From the author who brought you Red Dirt Heart and Thomas Elkin, comes a new story of jazz, vinyl records, fake dating that turns into half-of -your-soul-dating, and fake magazine covers. Coming to a theater near you soon… I think this book would be the epitome of a romantic movie between one trendy lumberjack and his nerdy-but-wait-until you-see-under-the-vest guy.
N.R.Walker read my mind and soul and gave me Spencer Cohen. I'm giving my second beyond five stars rating of the year, and I rarely do that ever. I gave one to Kings Rising, because perfection lets be real, but Spencer Cohen, Book Three has something no other m/m book this did, and that was give my this giddy, exhilarating feeling. The one that made me believe in love.
Now that it's over I'm left in a puddle of my emotions and feelings, because what I'm going to do without this two? I got so emotionally invested and attached to this two in a matter of months, and I'm not one for that. And the reason for that is I could feel the love this two had for each other even if the resisted it for a while. This two would melt the heart of an ice prince.
"Because that afternoon in my bed, in his arms, without a word between us, I told him I loved him."
Spencer Cohen, Book Three picks up in the heart of the romance. Book One was an introduction, it was the trope, it was the friendship. Book Two was the getting together, the honeymoon, the first stages of dating. Book Three is the weathering, it's the I'm in love with you, the actual love. And if I lost you then let me explain. Spencer and Andrew are in a relationship now, and the have toothbrushes in each other's house, but both of them have pasts. That's never been erased, nor dealt with nor experience.
I mentioned how I wanted to know what would happen going forward with Yanni, and his job, and his family. And N.R.Walker pulled no punches, she just kept giving and I for one took them happily. She does not disappoint and for that she has me in her 'will shelve all her book till the end' list. As for Andrew, he has issues to work with. He goes to fast, falls to hard, and he's been in a relationship that was just all around bad for him and his self esteem, how will that affect things with Spencer?
What works for The Spencer Cohen Series is the characters. Spencer is this really amazing guy who doesn't take shit and he's that type of person who is just plain fun to be around with because you know he's witty and quirky. Add that type of person to being a boyfriend and really you have the perfect other. Andrew is the same, he's unexpected and he's one to give as good as he takes. Together they make on hell of a romantic couple.
And Yanni which I wanted to see more of, and frankly I want a story with a certain Daddy, description courtesy of Spencer. Lola, Emilio, all of the gang were amazing and I feel part of their family. This third book had it all and more. Also…guys we got the why of the colors. I also want to mention something else in my review, but spoilers so I'll refrain but just know there is so much hope and love in these series that it just makes your day.
"Speak now or forever hold your peace."

Emilio grabbed his junk.

"Not that piece."
Spencer and Andrew, I'll miss you, but I'll keep rereading you until I get a short, christmas story. PS. that epilogue! What am I going to without this two boys?
The Spencer Cohen Series | Instagram | Goodreads| Tumblr | Twitter