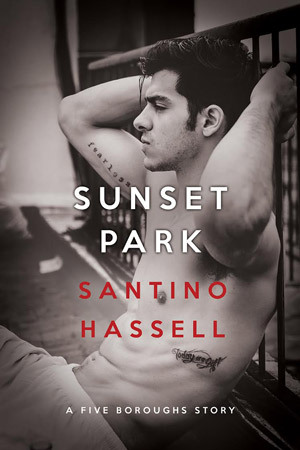 My rating: 3.5 of 5 stars
Received: Own
Publication Date: December 11, 2015
Publisher:Dreamspinner Press
Point of View: FirstPerson (Raymond & David)
Genres & Themes: MM Romance, LGBTQ+, Contemporary, Bisexual
BLURB:
Raymond Rodriguez's days of shoving responsibility to the wayside are over. His older brother wants to live with his boyfriend so Raymond has to get his act together and find a place of his own. But when out-and-proud David Butler offers to be his roommate, Raymond agrees for reasons other than needing a place to crash.
David is Raymond's opposite in almost every way—he's Connecticut prim and proper while Raymond is a sarcastic longshoreman from Queens—but their friendship is solid. Their closeness surprises everyone as does their not-so-playful flirtation since Raymond has always kept his bicurious side a secret.
Once they're under the same roof, flirting turns physical, and soon their easy camaraderie is in danger of being lost to frustrating sexual tension and the stark cultural differences that set them apart. Now Raymond not only has to commit to his new independence—he has to commit to his feelings for David or risk losing him for good.
REVIEW:
Raymond Rodriguez and David Butler intrigued me since I first saw their chemistry and Sutphin Boulevard. The way this gruff, take no-sh—, guy and this rather clingy guy got together to bring Micheal back and be there for him was just the perfect new ship for me. There just something about them that when I saw them together I just wanted it to happen, and I felt it would go that way. I love the whole angry with the world, but total sweetheart with the person they love. In this case Raymond with David.
"Raymond kissed me like he wanted to explore me, his tongue slowly twining with mine, and it was so sensual that my heart sped."
For about 45% of the novel, Sunset Park read like my favorite kind of fanfic. The ones where the best friend are totally on love with each other, but are the last to know. The one where they cuddle, touch, and basically do everything, but like totally platonic, dude. No homo, and all that shizzle. Like yeah, right, dudes.
And then…then something happen and it all went tits up. I'm talking about a clusterfuck that I couldn't find my way to the surface and it was so messed up that I couldn't make sense of why it was so wrong, just that it was.
I understood most of what was happening, and the actions and thoughts of the characters. And why the characters with their flawed way of thinking and being made such decisions, but that doesn't not justify it not made it okay for me to enjoy it.
"David climbed right on top, straddling me. He knew I'd never throw him off, even if i'd threatened to do so a hundred times in the past."
Raymond is my cinnamon bun too good for this world, despite his rough and dismissive exterior. At the beginning I thought David was perfect for him. I loved that David was the clingy, go for it with all he has kind of guy. But after that 45% all I wanted to do was take Ray and not let him go. David certainly doesn't deserve him, I thought, and by the end of the novel nothing made me change my mind. Definitely not with the way it ended.
The story is rather light for what Sutphin Boulevard was, but it wasn't less angsty or dramatic. I think we owe that mostly to David, actually we owe it all to him. See, right around the 45% it was good with him and Ray, but then suddenly his ex—the one he cheated on, made an appearance. I'm talking about David mentioning him out of the blue, when he hadn't been in the story.
During Sutphin Boulevard, I disliked David. I hate cheaters, and there's no if and buts about it. In this novel, I wanted to find out why he kept cheating on his boyfriend. And I did. I kind of understood, because his and Caleb's relationship wasn't healthy. We had this guy who had been burned one too many times, and this guy who basically manipulated him into coming back. It was this never-ending cycle that Caleb and David, both had faults in. Caleb knew he was cheating and he still manipulated David back to him, so I didn't hold David entirely accountable for it. But, cheating should never be the answer when you're not happy in a relationship. David kept on about being treated like a man, but he was treated as a kid by Caleb, because he allowed it.
Open relationships and cheating are not mutually exclusive, and I felt like David thought so. He could have left his relationship and gone and look for that something that Caleb wasn't giving him.
"You keep saying that," Raymond said. "Figure it out, figuring things out—you ain't figuring out shit. You're just avoiding doing anything at all because you think I'm not what you need, even if you know you want me."
Which brings me to my next irksome point. He had stuff to deal with. I get it, but he kept pinning it on Raymond. The whole angst was uncalled for, perhaps forced, certainly unnecessary.
David kept harping on about how Raymond wasn't committed to him and that he'd just walk away, but I feel like Raymond's action spoke louder than any word could. The miscommunication and the wall that David put up whenever Raymond talked got old super quickly. He was leading both man on, and then would talk about how hard the decision was because Raymond would move on.eventually… No, hon, be a man and own up to your decisions.
There was somethings that I would have loved to get more on….like Raymond's way off thinking about bisexuality. It was interesting because humans are all different and everyone will have their way of thinking, but with something like this an author has a sense of responsibility to say I'm writing this character like this but I won't justify it and touch on it and have this character acknowledge the truth. A little of, "No Ray, bisexuality can't be rub off," goes a long way, just saying.
The ending. It just felt so unsatisfactory…like that's it. That what this two have been fighting for. Maybe I just wanted some pining and groveling from David, but I was happy. The only bad that I have to say is have it be one more chapter, or maybe 7 pages longer.
Despite all my dislikes I enjoyed this story. I enjoyed the good parts, and some of the bad parts that had nothing to do with Caleb. I just wished it would have continued the way 45% of the beginning of the story had gone, and just had been a different angst that didn't center on Caleb. And as always, I love Hassell's sex scenes.
Ps. Really, David, after all the horrible crap Caleb said you're still going to go and try to be friends with him? Sometimes too much is too much.
Also, kudos to Hassell for writing spanish the way it's supposed to be, finally I felt like if a white person was going to write POC, they should find out how we speak instead of google translate. Amazing. I felt like the Rodriguez brothers were authentic hispanics. In all, I really really loved some parts of Sunset Park, but my experience left me wrung out for all the wrong reasons.  
FAVORITE QUOTES:
"I didn't know my presence was offensive. I tried to ungay myself for you and everything!"
"The cute kitten shit only works if you're an actual cat or if I'm getting some ass."
David buried his nose in my hair and wrapped his arms around me. "Come on, Ray…"
Basically the whole Grindr convo: "raw very slut looking for NSA dude who wants to breed a tight ass."
"There was only so many ways I could explain that he'd infiltrated every nerve, pore, and vessel of my being…"
"I think about him all the time, and I want to be with him all the time, and I think it's the same for him. We can't stay away from each other. No matter what happens between us, no matter how we argue, we still want each other and want to be together…"
"Yeah. I love being pissed off. Makes my dick hard."