My rating: 4.5 of 5 stars
Received: Own
Publication Date: October 26th 2015
Publisher:Dreamspinner Pre
Point of View: 3rd Person (Jeremy)
Genres & Themes: M/M Romance, LGBTQA+, Paranormal, Horror, Paranormal Romance,
BLURB:
Jeremy has been isolated and adrift since the death of his brother. Most people just see him as the skinny emo kid who wears eyeliner and plays drums. No one gets him. Nobody tries. He thought the indie rock band Stygian would become his anchor, but—lost in their own problems—they're far from the family he sought.
Still, hoping to get close to Kennedy, the band's enigmatic guitarist, he follows Stygian to northern Louisiana for a summer retreat. They had planned to spend six weeks focusing on new music but things go awry as soon as they arrive at the long-deserted Caroway mansion. Tempers flare, sexual tension boils over into frustration, and Jeremy turns away from the band to find a friend in his eerily beautiful landlord Hunter Caroway.
Kennedy suspects there's something off about the creepy mansion and its mysterious owners, but Jeremy thinks he's finally found somewhere he fits. It isn't until Kennedy forces the Caroway's secrets into the light that Jeremy realizes belonging sometimes comes with a price.
REVIEW:
"I don't need terms of endearment when the three syllables in my name work just fine." Kennedy said nothing, and Jeremy pushed on with a burst of bravado. "And the only time I let a guy call me baby is when he's in my ass."
Having Halloween withdrawals? In need of some spooky, dark, sinister books with intrigue and a dash of sizzling chemistry? This book embodies all of that and more. Add to the mix a band of rockstars and you have the recipe for a perfect book for that after Halloween feel. For me, it was the perfect Halloween read and I didn't even know I would get was I was looking for months.
Stygian surprised the hell out of me, in the best way. I didn't expect to be so entranced by it, maybe Santino Hassell did some mind spell on me, because I could not put this book down. And when I did have to for pesky things like eating and life, I was wishing I was in my bed curled up around my kindle.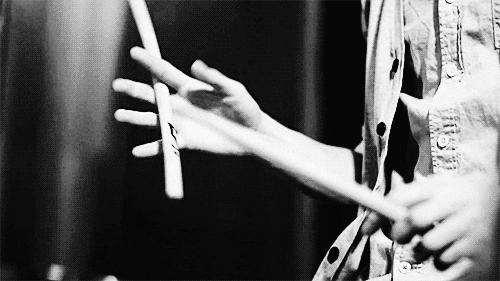 There wasn't an aspect about this book that I didn't love, I thought I might have a problem with a love triangle, because it read like it was going that direction, but if you're hesitant because of that fear not. Trust me, don't take things at surface with this novel.
"Seems like you and Quince have been drinking the same Kool-Aid."

"If it's the 'you and Watts are shitheads' flavor, then yeah. Maybe we have."
Even at it's darkest, this book had humor and some serious sassyness. I do have to say that I easily deciphered what the book was about, but that didn't deter my reading, because through Jeremy you can see how easy some people are to manipulate and how weak the mind really is, and in some way you get to experience it. The frustration that something is clearly wrong and how can you not realize, but then you put yourself in that situation and you realize that somethings are stronger.
"God, he was beautiful. In a way that made him a big ol' target because straight Texas dudes can't handle knowing it's a boy who caught their attention, you know?"
There was so much going on. Secrets, lies, manipulation. But everything gets solved and it's dark and at times confusing. I do want to know what happens though, but I get with Hassell finished it when he did, it's classic horror movie maneuver.
"You're unreal, kid. Hair so blond it looks silver, with eyes to match and that hard, wiry body of yours. Fuck. And you were even hotter once you got into the music. It was obvious you live for it. Breathe it."
Jeremy and Kennedy did it, and I wish there was less angst, because when they were together the sparked.  I just wanted more of them.
Regardless, I felt like the atmosphere was great. There was this sense of 'I'm losing my mind' and that chaotic spiral where everything is just twisted and crazy and you can't help but think back to the beginning and can't believe how far things have gone. Which is my favorite part in scary movies, to be honest.
Only spoiler thing I'm going to post:
"A hunter surrounded by bay laurels."
Ps. Can't wait to read the second novel in the Five Boroughs Series. Also, look at that cover!