With the amount of books I read each week, it's kind of hard to sit down and write a detailed review. Because by the time I'm sitting down to settle my thoughts my mind is being swept along by another book. With some shame, I'll admit that I have a bit of a reading problem. I'm constantly looking for new books to read, regardless of the fact I have an ever-growing pile (more like an avalanche) of TBR. Not to be feared, I have come up with a new segment—Mini Reviews, that is, a collective of reviews but shorter. The good thing is that this is for those shorties-but-goodies books.
Some people fear the young adult LGBTQ+ section. Some suspect it's filled with angst, and coming of age that comes with being a teen. Signs is a feel good book, despite the topics, but as a part of life there is angst and you know…plot. I enjoyed this book, learning about Caleb, and Luc and the cards they had been dealt with in life. How innocent their love is, but yet it isn't because they've gone through more than kids at their age should. How accepting their friends and family were. If you're looking for new themes, but with light angst this is it.
This book was recommended to me through Goodreads, and I was intrigued. Rightly so! I can't tell you how much I found myself smiling and hoping, and shaking my head (all good), it was just so entertaining. Shorties-but-goodie was made for this book. Maps had me laughing since the beginning, and his witty repertoire is something I want to achieve.
I can see it already, his best friend, Benji, will be the number one fan of Maps and Lane. I'll leave you with this awesome dialogue. "Oh god, you two are going to adopt little babies and them Avenue, Street, and Compass, aren't you?"
3. Checking Out Love by R. Cooper
Thoughts: Bye, I'm camping out in the library until I meet my own beast, and break a few rules in the special editions sections. The witty banter and eclectic personality will forever reel me in. Couples who love books, and coffee, too. Couples who have witty banter, scorching chemistry and a love for books will always draw me in.
4. The Marrying Kind by Jay Northcote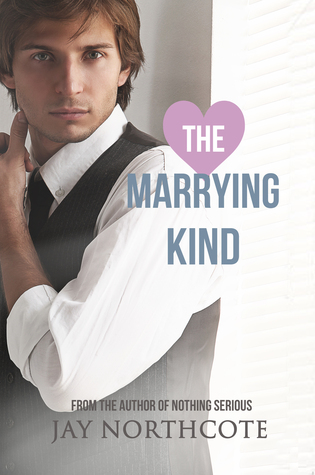 If you've read The Dating Kind, then this book will be next on your list to read. I'm so glad, I was able to see where this couple left and headed, and though there was some road blocks on the way together they overcame the hurdles. Seriously, I can see this two getting it on everywhere. Don't fear the sex gets boring after getting married, do not my friends.
Where the first book was trifle with miscommunication, misunderstanding and lots of angst this book wasn't. I'm in love with this book, a tad. Maybe more than that. I'm loving how authors are venturing out and shedding light on new themes ( I hate calling it that), but talking about mental illness and saying yes, I have, but, yes I can also love. I don't want to spoil anything, but read it. It's lovely, but it also deal with the reality of mental illness, and it isn't about romanticizing it, but saying that there can be romance and love with people who deal with mental illness. Wished it was longer.
(If there is any review you'd like a full, detailed review on, let me know! I'd be happy to gush, always am!)