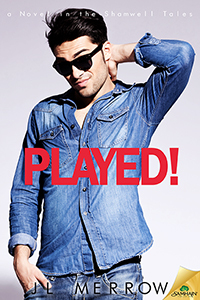 My rating: 4 of 5 stars
Received: Netgalley ARC
Publication Date: (Expected) June 30, 2015
Publisher: Samhain Publishing
Point of View: 3rd Person (Alternate Con & Tristan)
Genres & Themes: M/M Romance, LGBTQ, Dyslexia, Plays, Theater, A Midsummer Night's Dream
BLURB:
Tristan's in Shamwell for one last summer of freedom before he joins the family firm in New York—no more farting around on stage, as his father puts it. But the classically trained actor can't resist when members of the local amateur dramatics society beg him to take a role in their production of A Midsummer Night's Dream.
Especially as he'll also be giving private acting lessons to gorgeous local handyman, Con, who's been curiously resistant to Tristan's advances. Tristan's determined to get Con in his bed—not only is the man delicious, there's fifty pounds riding on Tristan's success after a bet made with his drama school chum Amanda.
Con's never dared to act before. A late-diagnosed dyslexic who had a hard time at school, he's always been convinced he'd never be able to learn his lines—but with Tristan helping him, he might just be in with a chance. Trouble is, the last time Con fell for a guy, he ended up getting his heart broken, and with Tristan due to leave the country in a matter of months, Con's determined not to give in and start anything that's bound to finish badly.
Just as Tristan thinks he's finally won Con's heart—and given his own in return—disaster strikes. And the curtain may have fallen forever on their chance of happiness.
Warning: contains a surfeit of Bottoms and asses, together with enough mangled quotations to have the Bard of Avon gyrating in his grave.
REVIEW:
All I can think of Con and Tristan is the way Drake and Josh would begin. You know, the split intro, one of them would start off the story, then the other the rest, and by the end it was both sharing a screen blaming and trash talking about each other. Who was right, who was in the wrong? Was someone in the wrong?
That's Con and Tristan pretty much throughout the book. The beginning was like a train wreck, you wince on the impact, but still you're captivated by it all.
But see, Con, is deliciously good-looking, but he's a bit hard on himself as he's dyslexic and he never got treated for it. He's constantly thinking he's rather daft for it, and that was so heartbreaking to read, because being dyslexic doesn't mean being any less smart than the next person, rather he has a difficulty learning to read or interpret words and the such, but doesn't affect the general intelligence. The fact he never got treated for it is what has affected him and made him less smart than the next person.
Then we have Tristan, who's good looking, rich and a bit full of himself. Not in a bad way, mind you. I love his character traits. He knew he was good, and even if he wasn't he was confident in who he is. He was funny, and has this way of seeing his world and the love for quoting plays was his, you know. I couldn't help but smile at his antics.
So how do this two spend time together? Well, nothing better than a play. And some Midsummer Night's Dream, right? Have we not seen Were the World Mine. Not entirely the same, though, but lines…rehearsing….spending time together *eyebrow wiggle*…
"Darling, I'm doing him a favour. It'll be something for him to look back on during those long winter nights."
What does that sound like, hmm? If you guessed a bet, then you'd be correct. Now when is betting on getting someone in your bed wise or okay?
For one, you should never toy with a person and second, it will come back to bite you in your derrière. Conwards and such….
Played! is those books that you want after a hard, trying day at work. The one that wraps you up in laughter, the one that makes you shake your head but your lips are curling into a smile, and after you're done it leaves you feeling better, lighter. Still chuckling long after your finished.
"Preggers, dear boy. Where was I?"
"In the womb, then, I 'spect."
Afterwords: I read a bit of the first book in the series Slam! back when it came out, unfortunately, I had other books to read, but for the old and new fans, Rob and Sean do make their appearances alongside Heather and Chris.
Minor quibbles:
"It was genuine, like the rest of her—not all painted—on eyebrows and bleach blonde hair extensions like a lot of girls these days."
UHM, EXCUSE ME. What is wrong or rather what make a woman with painted on eyebrows and bleached blonde hair extension not genuine? This thing with women has got to stop.
Other Characters:
Amanda, you need to take a hike. Glad Tristan came to his senses. Take out all the toxic in your life, love.
**An advance reading copy was generously provided to me via NetGalley in exchange for an honest review